Other
December 23rd, 2008
After you complete a tradermark registration with any Intellectual Property Office, you may receive a scam letter which looks like it comes from that office and asking money transfer/check payment for your trademark application.
If you don't read it very carefully, it looks like it comes from the registration authority and it creates a strong impression that this money is needed to complete your trademark registration. Well, guess what, it does not come from the authorities, nor it is required, it is simply a fraud attempt.
Here is a sample letter: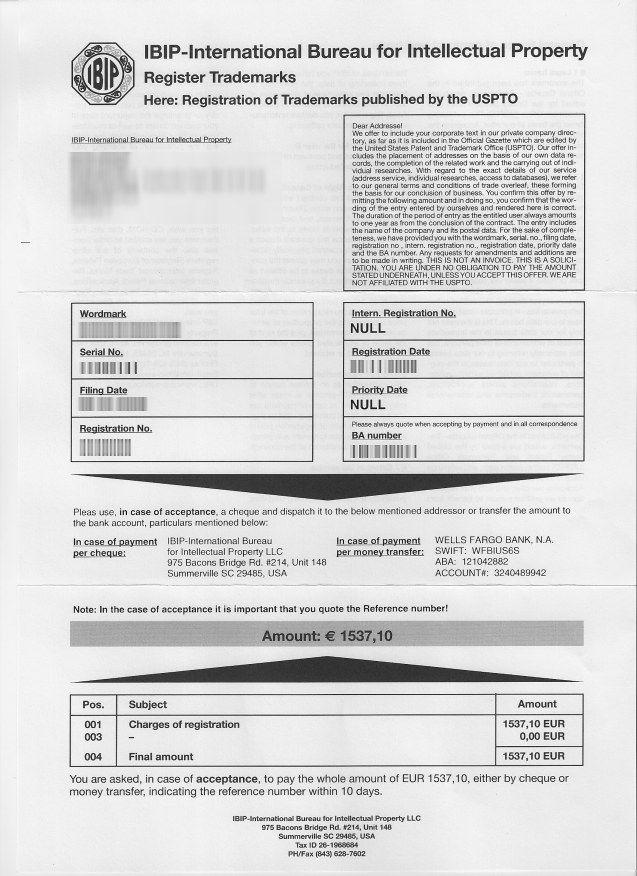 It is titled as :
IBIP-International Bureau for Intellectual Property
Register Trademarks Here:
Registration of Trademarks published by the USPTO
which gives you the impression that it comes from United States Patent and Trademark Office (USPTO). It uses the same application format of USPTO while referrencing your trademark application and it addresses you by you name and arrives your address which were giving in your registration application. For the payment amount it uses "Charges of registration" term to give you the idea that it is for your trademark registration and also uses a US address, phone number, fax number and bank account number to lure your further:
IBIP-International Bureau for Intellectual Property LLC
975 Bacons Bridge Rd. #214, Unit 148 Summerville SC 29485, USA
Tax 10 26-1968684 PH/Fax (843) 628-7602
In case of payment per cheque:
IBIP-International Bureau for Intellectual Property LLC 975
Bacons Bridge Rd. #214, Unit 148 Summerville SC 29485, USA
In case of payment per money transfer:
WELLS FARGO BANK, N.A. SWIFT: WFBIUS6S ABA: 121042882 ACCOUNT#: 3240489942
And it asks you to send 1537,10 Euro in large letters!
Now let's read the very tiny text at the top, shall we?
Dear Addresse! We offer to include your corporate text in our private company direc­tory, as far as it is included in the Official Gazette which are edited by the United States Patent and Trademark Office (USPTO). Our offer in­cludes the placement of addresses on the basis of our own data re­cords, the completion of the related work and the carrying out of indi­vidual researches. With regard to the exact details of our service (address service, individual researches, access to databases), we refer to our general terms and conditions of trade overleaf, these forming the basis for our conclusion of business. You confirm this offer by re­mitting the following amount and in doing so, you confirm that the wor­ding of the entry entered by ourselves and rendered here is correct. The duration of the period of entry as the entitled user always amounts to one year as from the conclusion of the contract. The entry includes the name of the company and its postal data. For the sake of comple­teness, we have provided you with the word mark, serial. no., filing date, registration no , intern. registration no., registration date, priority date and the BA number. Any requests for amendments and additions are to be made in writing. THIS IS NOT AN INVOICE. THIS IS A SOLICI­TATION. YOU ARE UNDER NO OBLIGATION TO PAY THE AMOUNT STATED UNDERNEATH, UNLESS YOU ACCEPT THIS OFFER. WEARE NOT AFFILIATED WITH THE USPTO. 
So you see: They expect you to send 1537 Euro so that they can put our trademark in to their "Official
Gazette! And I'm sure many falls for this scam as the letter is pretty fraudulent.
And here is how it works: When your trademark application is approved, it is published in the registering organization's website. It can be USPTO (United States Patent and Trademark Office), WIPO (World Intellectual Property Organization) or any other local Intellectual Property Organization of different countries. In this publising, trademark owner's name, address and trademark information
like item number, registration date etc. is also published. So these scammers simply monitor new registrations and then send this scam letter to the addresses of new registrars which gives itself and impression that  it comes from the official organization and asking for a required payment to complete your trademark application. It is simply deceitful. Moreover if you receive this
letter it means that actually your trademark is registered already (so they got the info from publisment of official organization) and your official letter of approval is already on its way. But I bet you'll get this scam letter before the official letter and if you don't read well, unfortunately you can fall for it.
It seems that these scammers monitor many different Intellectual Property Organizations as I've run into different scam alerts of different organizations. There are also different names they use so if your letter comes from a different "name", don't fall for it. Here is some of the names used by them:
RIPT – Register of International Patents and Trademarks
IBIP – International Bureau for Intellectual Property
ODM – Patent Trademark Register
IBFTPR – International Bureau for Federated Trademark & Patent Register
IOIP – Organization for Intellectual Property
ODM – Register of International Patents
ODM – Office Data Management
IOPTS – International Organization for Patent & Trademark Service
FIPTR – Federated Institute for Patent and Trademark Registry Inc.
CPTD – Central Patent & Trademark Database
CCIT – Commercial Center for Industrie and Trade
CPD – Central Patent Database Register of International Patents Register of International Patent Bulletin/Registredes données bulletin europeén des brevetes Institutof Commerce for Industry, Trade, Commerce/Wirtschaftsinstitut für Industrie, Handel, Handwerk
AG Central Data-Register of International Patents
They might likely to fake a different name after the one they used are busted as in the example of "IBIP
– International Bureau for Intellectual Property".
So beware..